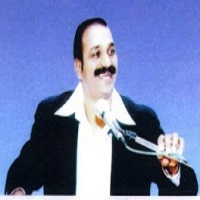 Dr. Santosh Kamerkar, Ph.d, SME
Mr. Santosh Tupe, Director, Chanakya Infocom Pvt Ltd.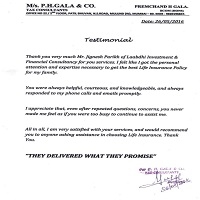 Mis. P.H.GALA & CO, TAX CONSULTANTS
Thankyou very much Mr. ]ignesh Parikh of Laabd hi Investment & Financial Consultancyfor you services.I f elt like I got the personal attention and expertise necessary toget the best Life Insurance Policy for my family.
You were always helpful, courteous, and knowledgeable, and always responded to my phone calls and emailspromptly appreciate that, even after repeated questions, concerns,you never made mef eel as ifyou were too busy to continue to assist me.
All in all, I am very satisfied withyour services, and would recommend you to anyone asking assistance in choosing Life Insurance. Thank You.
''THEY DELIVERED WHAT THEY PROMISE''